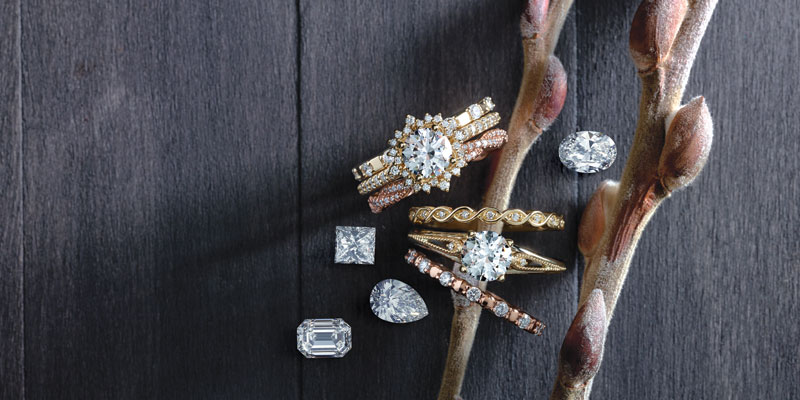 Furmanek is your local Vernon jewellers located in the heart of beautiful downtown Vernon. Street parking is available within store location.
Visit our showroom to view our selection and meet with our jewellery expert. 
3026 30th Ave, Vernon, BC V1T 2B9
Monday: 10:00am – 4:00pm
Tuesday: 10:00am – 4:00pm
Wednesday: 10:00am – 4:00pm
Thursday: 10:00am – 4:00pm
Friday: 10:00am – 4:00pm
Saturday: CLOSED
Sunday: CLOSED
Try your local Vernon jewellers first.
We promise to exceed your expectations!
Call us, we are here to answer your questions. If you reach our voicemail, please leave a message and we will get back to you as soon as possible.
We look forward to hearing from you! Let us know in detail what you may be looking for or any questions you may have and we will get back to you at our earliest convenience.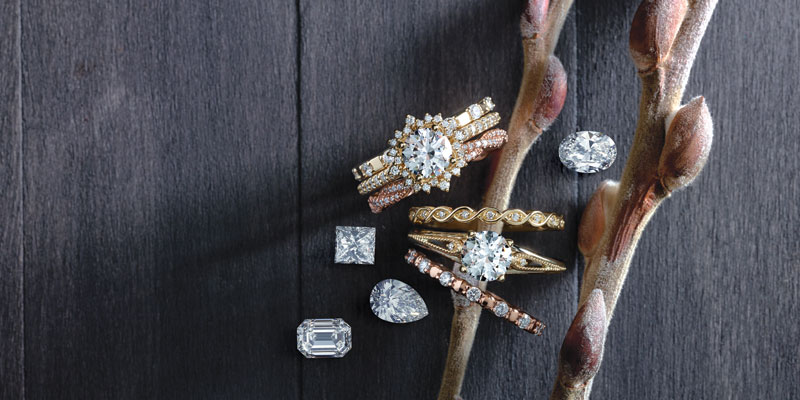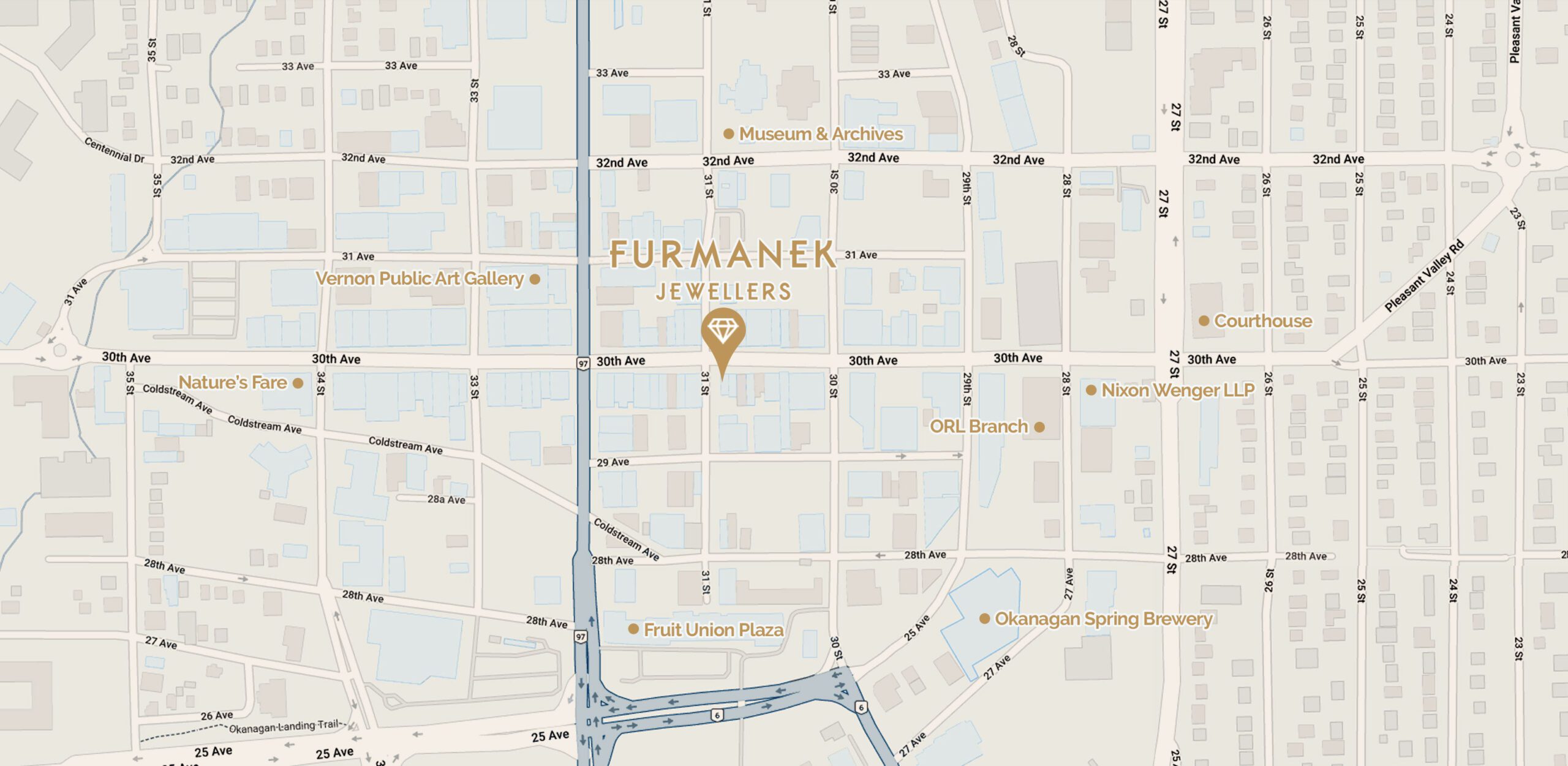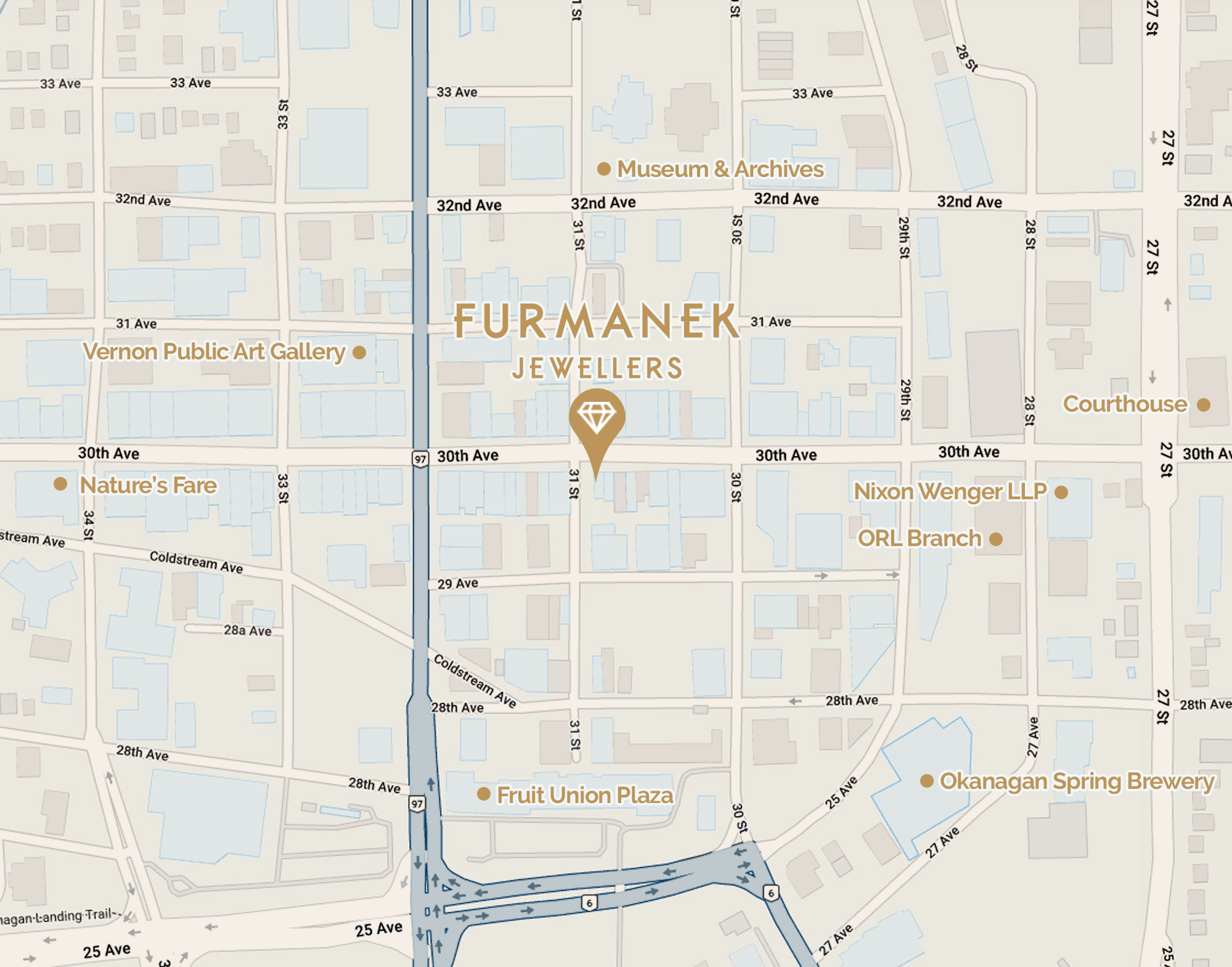 At Furmanek Jewellers we are committed to the highest standards of service to our clients, which we have been able to achieve in our 65+ years of service as a trusted Vernon jewellers. We look forward to you visiting us and the opportunity to offer the best shopping experience that exceeds your expectations, having you return again and again.
How can I secretly get my partner's ring size?
Start by asking your significant other's friends and family. If they wear rings frequently, try to take one without them noticing to a local Vernon jewellers and ask them to check the size. Be sure to note which finger and hand they wear it on! Each of our fingers is different sizes and they can even vary from right to left hand.
Do you do custom work?
Absolutely! We love to do custom work to create that one-of-a-kind piece. Feel free to come into the store or call us to discuss what we can create for you.
What can I do with my old jewellery?
If you have old jewellery lying around that you aren't wearing, you can use it to make a custom piece! We can repurpose all of your precious gemstones and diamonds. You can use your gold if we determine that the metal is at least 14kt.
What is the difference between metals?
First, you must understand karat. Karat is the unit used to measure the purity of gold. Pure gold is 24kt, or 100% gold. 18kt contains 75% gold (18/24=.75) and 14kt contains 58.5% gold. The reason alloys get added to gold is to make them strong. 24kt is very soft, making it not very ideal for everyday wear. Thus, many jewelers opt to work in 14kt and 18kt which are both very strong.
14kt white gold:
This gold contains 58.5% pure gold and 41.5% alloys and the 14kt's natural color is off-white, so it gets rhodium plated to get a bright white color. While 14k white gold is a very strong and durable metal and is the most cost-effective option for someone who wants white-toned jewellery.
14kt rose gold:
Referred to as pink gold or red gold, it is rosy in color and can vary from jeweller to jeweller. Some can be more orange and some can be pinker. Rose gold is alloyed with copper to get the rosy color. 14kt rose gold is a great metal for everyday wear.
14kt yellow gold:
This gold is pale yellow or golden in color. The 14kt yellow gold is a great metal for everyday wear.
18kt White Gold:
The 18kt white gold contains 75% gold and 25% alloy. Because 18kt has more gold, it is going to be slightly softer than 14kt. It will also have more of a yellow tint, making you notice when the rhodium coating begins to wear off sooner than you would with 14kt.
18kt Rose Gold:
The 18kt rose gold has a very rich color and is not necessarily pinker since it actually has more gold in it. There is not more copper in it and is best described as brownish-red.
18kt Yellow Gold:
The 18kt yellow gold is a very beautiful color as it is very rich and more yellow than 14kt yellow gold. We recommend 18kt yellow gold if you are going for a more saturated color for your piece.
Platinum:
A very dense metal, making platinum almost twice as heavy as gold. Because it is so much heavier, it is more expensive. It is hypoallergenic, so if you are usually allergic to metals, platinum is your best route. Unlike white gold, it does not have metal memory. When a setter sets a diamond, the prongs stay put, where white gold may have the tendency to loosen around the stone. Another benefit of its malleability, platinum will more likely stay together as one piece in the unlikely event of being damaged. On the other hand, white gold's hardness makes it more brittle and at risk of breaking.
Sterling Silver:
A very common metal that is very affordable and is the only metal in this list that tarnishes or changes color. You can slow the process of tarnishing by keeping your silver jewellery dry, not showering or swimming in it, or letting any chemicals (hair spray, sunscreen, etc.) come in contact with it. Tarnish only occurs on the surface, so you can have your sterling silver jewellery re-polished to make it bright white and shiny again.
Because silver is soft, it is not recommended to use to make any jewellery that holds gemstones or diamonds. It is also not recommended for any delicate or thin bands as it can bend too easily. Sterling is a great metal for wide bands and for those who are not used to wearing jewelry and are afraid they may lose their ring.
What are the four C's?
The 4 C's stand for Carat, Clarity, Color, and Cut.
Carat is used to measure the weight of diamonds and gemstones.
Clarity refers to how clear a diamond is and is based on how many inclusions are inside the diamond. Inclusions can include minute crystals, growth patterns, tiny enclosed fractures, etc. The Clarity is measured on a scale from IF (internally flawless) to I2 (included 2). The clearer a diamond is the rarer and thus, the higher the price.
Color refers to the color of a diamond. Diamonds tend to have a yellowish or brownish tint. The scale starts at D (colorless) and goes all the way down to Z (noticeable color). Most diamonds we see in the market are in the D-I range.
Cut refers to the cut of a diamond and is the most overlooked but possibly the most important! The cut is the only contribution by man, while all others are naturally occurring. A Cut can really make or break the appearance of the stone. If a diamond has excellent proportions, symmetry, and angles it is going to have optimal light return and be very sparkly. If a diamond has poor angles, poor symmetry, and poor polish, it will appear dull and dark.
What makes Canadian diamonds so valuable?
Canadian diamonds are highly regarded because Canadian diamond mines have some of the world's highest environmental standards. They are also conflict-free, having undergone a certification process that allows the stones to be tracked from the mine through manufacturing, wholesaling, and to the retail consumer.